We wear many hats…
Figuratively and literally, there's a lot of mad hatting going on here.
Many Hats Productions provides intelligent, versatile and multi-talented assistance in getting things done.
Located in New York City, Many Hats Productions serves the fine folk of the city that never sleeps*.
As you can see, this site is still undergoing some construction. For the nonce you can email lily@manyhatsproductions.com to request details and pricing for any of the following services:
Digital Projects
Strategy and research for introducing new web-based tools to site or company
Digital communications, including social media and web-ready content
Introduction to the 21st Century
Website architecture & design
All Things WordPress
Google Apps for Business
Google Apps for Non-profits
Paperless office conversion
Brain Punks
Have you taken leave of your senses? Probably not, though others say you have. Try bouncing your crazy ideas off a head that wears many hats: you'll be surprised by how high our threshold for wackiness is. If your project looks nuts on paper and is even nuttier in real life, you'll probably need assistance from begoggled and unfettered mad hatters.
Lighting
Design for theater (non-union)
Board operation
Rigging
Design for photo/film
Residential
Commercial
Writing
Fiction
Non-fiction
Ghost-writing
Copy and copy editing
Editing
Web-ready content
Newsletters
Grant writing
Resumé development
Technical Assistance
Gallery Hanging
Shoot production
Inventory
Manual labor
Handyman services
Calligraphy
Greeting cards
Invitations
Thank-yous
Gifts
Collectibles
Manuscripts
Events
Event planning
Management
Production
Extra hands
Research
Music
Band management
Bookings
Branding
Session musicians
Vocalists
Party music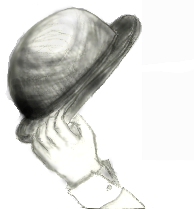 There's no excuse for shoddy work.
*Note: New York does actually sleep, around 3:30 or 4pm, when restaurants close to prep between lunch service and dinner service, and everyone at a desk suddenly gets very drowsy.